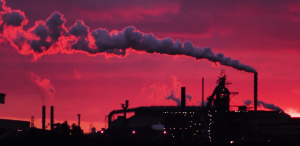 TO LIVE AND DIE IN G.I.
"Gary lies in the gutter and looks at the stars."
-Arthur Schumway
     Say the words, "Gary, Indiana" to most people, or better yet, mention that you grew up there, and the reaction is visceral and immediate. With wide eyes, those forced to hear these accursed syllables warily step back, gaping at you suspiciously, as if you're going to whip out a linoleum knife and carve out their gall bladder. "That's a rough town," they'll say, ever so ruefully, or "you grew up in Gary and you're still vertical?" It's either that, or as chipper as a cheerleader, they'll chant the words "Gary, Indiana, Gary, Indiana," from "The Music Man." No other place ignites such an instant response, or one so at odds. One reaction involves terror. The other, happy go lucky insipidness. But from its inception, Gary has been a place of extremes, a crossroads of contradictions, a paradox incarnate.
For starters, Gary is in the state of Indiana. But it is nothing like the Indiana that comes to mind. There are no charming covered bridges in Gary. There are no basketball hoops on red barns in Gary. There are no fields of flowing corn, no combines or tractors plying God's green earth, no bake sales, bucolic reveries, or Mellencampian heartland clichés. No, unlike the rest of Indiana, Gary is urban, ethnic, and gruesomely industrial. It's a well worn, thoroughly used and abused area, like hardened scar tissue, or a scab that's too thick too peel away from the healthier tissue growing around it.
To most people who experience it, Gary is nothing more than a horrific stench, and an even more horrific sight. Marked by dismal housing projects, dilapidated shacks, decrepit trailer parks, crumbling duplexes, boarded-up storefronts, grimy truck stops, junk yards, rail yards, garbage-strewn vacant lots, pockmarked roads, abandoned strip malls, charred husks of buildings, and countless smokestacks spewing out noxious emissions, Gary is a bleak, gray, depressing hinterland, a grim, hopeless-looking place to shudder at, ignore, or simply shake your head at in dismay as you zoom on to brighter, less threatening locales.
Gary is part of what is known as "Chicagoland," as it's only thirty miles from the Loop. But it's light years away from Chicago in every possible way. There are no investment bankers trading futures in Gary. There are no world-class restaurants and chic, cosmopolitan cafes in Gary. There is no breathtaking architecture, no glimmering skyscrapers, no vibrant theatre scene in Gary. Gary is closer to Chicago than most Chicago suburbs, and receives the same television and radio stations as Chicago. But in spirit, mindset, and outlook, it is as far from Chicago as Prudhoe Bay. If Chicago is The City of Broad Shoulders, Gary is The City of Weak Knees. If Chicago is the Hog Butcher For The World, Gary is the Human Butcher For The World. If Chicago is The Second City, Gary is The One Millionth City.
Perched between these rural and urban polarities, Gary has always had an identity crisis. So it's no surprise that its most famous native, Michael Jackson, suffered a similar fate. With his circus selves constantly shifting and evolving into various other selves, this desperate creation of plastic surgeons first grappled with who he was and who he wanted to be right over on 2400 South Jackson Street. Who knows, it might have been true—maybe Michael wasn't sure who he wanted to be because he city he lived in wasn't sure what it wanted to be, either.
Like the King of Pop, Gary burst into national prominence full of promise and infinite possibility. Hailed as "The New Industrial Utopia," Gary was founded in 1906 by U.S. Steel. Hopes were high. A city brochure gushed, "Cosmopolitan Gary, the Magic Steel City, welcomes all comers to its confines, where health, wealth, and pleasure make it the most wonderful city of the present century!" But inevitably, like the Gloved One, Gary had nowhere to go but down, falling to pieces step by step, until the face it showed to the world was a grotesque atrocity.
This is due to two primary factors: pollution and crime. Upon entering its environs—usually by car, with every door being automatically bolted shut as soon as the road sign appears on the horizon—Gary announces itself immediately, with a nauseous, sulfurous odor. The smell is a stomach-curdling bouquet of contaminants including nitrates, cyanide, zinc, manganese, ammonia, barium, phenol, lead, nickel, and chromium among countless others.
The water in Gary is equally as foul. Suffering from over a century of environmental neglect, the brackish Grand Calumet River and its subsidiary, The Little Calumet, which wind through the city and its adjoining hamlets, seethe with pollutants. With PCBs, cyanide, heavy metals, mercury, cadmium, phosphorus, assorted dioxins, arsenic, fecal coliform, and other volatile solids like oil and grease commingling together in a bouillabaisse of poisons, it's no wonder only sludge worms call the local "waters" home.
As for vice, corruption, gang warfare, and other crime, Gary is synonymous with it. Consistently ranking high or sometimes even first on various civic indexes in categories like "Most Dangerous," "Most Miserable" and "Most Murders Per Capita," the city excels in dubious honors. Now and then another town like Newark, Detroit, or New Orleans dethrones Gary of these infamous distinctions, but G.I. always seems to creep back up to the top of being the absolute bottom. An inordinate amount of murders, burglaries, rape, arson, car thefts, prostitution, and drug-fueled violence cement Gary's reputation as one of the most notorious cities in America.
Mayberry eat your heart out.
Keep Shoveling is a memoir depicting my experience as a laborer in U.S. Steel. Bracing, bawdy, and full of seedy, unforgettable characters, it's a rollicking, whiskey-fueled, warts-and-all coming of age story that confirms that not all of life's lessons are learned in the classroom.