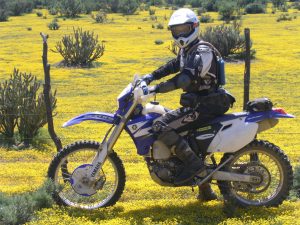 Fiction and non-fiction writer. Motojournalist. Freelance copywriter. Former steel mill worker. Soi disante artist. Neophyte sculptor. Verbal collage maker. Voice over guy. Drummer. Bass player. Off-road enthusiast. Swimmer. Scuba diver. Collector of National Lampoon magazines and ex-contributor. Ham-fisted, knot-phobic, frustration-prone fisherman. Mediocre carpenter. Clumsy French speaker. Hater of Crocs, kettle drums, passwords, the phrase "cool beans" and the sound of a penny tinkling around in the dryer. Lover of turtles, the blues, the Cubs, Indiana Hoosier basketball, the Greek islands, the Catskills, T.C. Boyle, Dorothy Parker, Dr. Seuss, Evel Knievel, Alexander the Great, Ween, Warren Zevon and Bob Dylan.
Published work includes stories and articles in The Satirist, The Baffler, The Portland Review, The Brownstone Review, 1903 Magazine, Speak Magazine, Vignette, Uno Mas, Storyhead, Brutarian, Potpourri and Implosion: A Journal of The Bizarre & Eccentric.
Writing projects:
Keep Shoveling (non-fiction memoir)
Empty Pinata and Other Tales of Woe (story collection)
Guts (novel)
Logorrhea: essays, articles, asides, & et cetera.
News From Hell (novelty book / on-line content / art)
The Product Placement Bible (novelty book / on-line content)
CONTACT:
geologo25@gmail.com