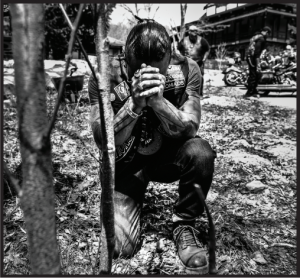 In the distance, a rumble. Low, full-throated, and ominous, it grows nearer and nearer. And suddenly, the idyllic spring day seems threatened by an ominous presence. Rising over the crest, they appear: a throng of whiskery, leather-clad bikers, seventy hard-eyed, bad ass mofos astride monster Harleys, announcing themselves to the world with menacing tattoos and growling engines, marauders of the open road hell-bent on finding peace, tranquility, and the gentle glow of spiritual enlightenment.
Wha . . .?. Wait a sec. Peace? Tranquility? Wouldn't a crowd like this be looking for a bar? A babe? A brawl? Or all three? Conventional wisdom screams "hell yes." But this horde of razor-challenged riders is anything but conventional. And they're anything but threats to society, or middle-finger waving rebels looking to swipe a Cub Scout's lunch money. In fact, they're the exact opposite of bad behavior, as their name denotes.
Meet RedRum MC, the First Nations, Native American Bike Club, founded in 2006. Unlike other bike clubs or gangs, Red Rum is all about positivity. Built on the foundation of brotherhood, community, self-respect, family values, and charitable causes, the 80-plus members was formed in order to promote unity, peace and tranquility. Once you speak to club president Cliff Ke le Matias, it's easy to see where the inspiration came from.
"I've been shot, stabbed, got cut with a sword, you name it,"' he said. Matias grew up on the hardscrabble streets of Brooklyn, where RedRum is based, and like most members of the club, rubbed elbows with some sketchy characters while growing up, not to mention run-ins with the cops. Youthful defiance soon turned to the realization that he wanted to "make an imprint on society instead of the police blotter." And so RedRum was born, as well as their motto of "spreading positivity on two wheels." And they've followed that mission as naturally as inking another tattoo.
Over the past decade, Matias and his crew have not only provided a haven for part and full Native American riders by forming six chapters around the country—and several more internationally—but also rallied support for indigenous causes like land reclamation, historical education and environmental clean-up initiatives; they've raised funds for St. Jude Children's Hospital, held and annual "Blessing of the Bikes" in Bear Mountain, NY, and on this weekend "Peace Run," gave prayers at a white pine planted a white pine in the name of harmony at the Chuang Yen Monastery, in Carmel, NY. It is here where they boldly appeared out of the blue on a beautiful Saturday in early May.
After kickstands down and helmets off, the riders circled Matias to heaer him lead a ceremony of worship before the peace tree. Joined by his brother Dave on drum, Mathias played a Native American melody on the cedar flute, the traditional chanting drawing a crowd, the delicate notes cutting right to the heart. Then rider after rider lined up to crumble sacred tobacco into the soil, issuing silent prayers to the earth, their ancestors, and all things that are good in the universe. And when the music finally faded away, there was only the sound of the wind, which caused the small white pine to tremble slightly, yet remain firm and undaunted, reaching for the sun.
Then they said their farewell to the monks, throttled up their hogs and rode off to get some barbecue.
-As published in 1903 Magazine.