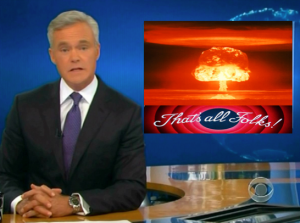 When the end of the world started today, everyone in the newsroom was shocked. We'd covered big stories before—that whole World Trade Center thing, Frank Sinatra's death—but never anything like this. There was panic at first, but after realizing our duties to the network and its clients, NewsFive rose to the occasion, delivering a flawless broadcast, showing all of New York why we're the top-rated news program in the Tri-State area.
As news director, all I wanted was to depict the grave situation as best as I could, with accuracy, brevity and clarity. I wanted to do it for myself, to uphold my own journalistic standards, but more importantly, we owed it to our advertisers: Burger King, Chrysler, Blimpie, they drop serious cash—a hundred and fifty grand for thirty seconds—and if we don't get the viewers, what're we here for?
And we did it. Dan Delaney, Sunny Greenfield, Dirk Malibu, Chip Simpletown—the entire on-air staff delivered, exhibiting the class and showmanship of the season media professionals they are. I tip my hat to them, to the whole department: the writers, producers, videotape editors—even the interns.
Hopefully, the eleven o'clock broadcast will go just as smoothly. If it does, I can meet my maker with a smile, knowing I've executed my job to the zenith of my abilities.
There was nothing unusual about Thursday, June 9th, 2003, certainly nothing to make you think it'd be the last day of planet Earth. I awoke at seven, had a bowl of Mini-Wheats, and cabbed down to Rockefeller Center, where the WNBC-TV newsroom is located on the third floor.
No sooner did I step from the elevator when I saw Sheila McNight, my assignment editor, and her red praying mantis eyeglasses. As usual, she'd camped in the lobby, waiting for me. "Doug," she said, dropping Broadcast Media and rocketing off the beige lounger, "radar's picking up some wild shit."
"Morning Sheila." She thudded after me as I made for the kitchen.
"The barometer's going crazy. Comstar's found strange cloud-patterns in the stratosphere."
"Send Johnny up in the chopper."
"What for?"
"I don't know, we got the thing, let's use it. Get some cloud shots."
I got a coffee and holed up in my office, where I set my police scanner on HyperSearch and checked the wire reports. The red voice-mail button on my phone blinked like a tiny frantic eye and a stack of "While You Were Outs" sat paper-clipped on my desk. I sighed. A typical day—I hadn't been in two minutes, and already I was swamped.
The morning passed. I screened audition tapes, talked with Fred Silverstein, our GM about Sunny (at 32 he thinks she's "over the hill"), read press releases, and made a crude list of the stories so far. Besides another jogger raped in Central Park and a three-alarm fire at an ice cream parlor in Park Slope, the only good thing I had was the "crazy barometer" piece. I decided to see if Meteorology knew what it was.
I hit the newsroom, and couldn't believe my eyes. Not a single person was at their desk. Walking the cubicles, I found steaming coffee cups, pushed-back chairs, and on Laura Mastrianni's desk, a recently toasted, bialy whose pad of butter was still melting. I kept walking, but not until rounding a corner did I find them. Huddled three-deep, murmuring in hushed tones, the NewsFive staff stood by the windows, gazing outside.
Inky black murk filled the canyon of Forty-Ninth street, and herds of people fled down the sidewalk, darting between graffiti-carved delivery trucks and blaring cabs. Debris sailed in spinning circles. The wind threw light drizzle through the orange halos of streetlights and the windows in the building across the street glared a fluorescent white as the sun dimmed further. I saw shadows of office workers, men in ties, women cradling coffee mugs, all staring confusedly into the gloom.
I check my watch—11:32. Something major was happening, a freak midday thunderstorm, or—this got me really excited—a surprise eclipse. Either way it was damn good copy.
Right then someone tugged my arm. "I've got Johnny on the two-way," Sheila said.
I followed her into AV, and watched as she fiddled knobs and dials. "Johnny, come in, over," she said, between gusts of static. I heard garbled cries, broken-off words, but nothing intelligible.
"I just had him,' Sheila said, slapping away the noise. "Johnny, what's it like up there? Johnny come in."
We tried and tried, but it was no use—nothing but static. "What did he say?" I said.
Sheila's response was drowned out by a smash of thunder so loud it seemed to explode in my skull. It sounded like a giant whip cracking, snapped every cell wide awake, and sprawled me off my chair.
"Holy SHIT!" I yelled, scrambling to my feet. Sheila and I ran to the windows, elbowed forward, and what we saw simply defied belief.
I thought it was paint the Greek guys on the scaffolding had spilled, but as I watched heavy drops of it streak the windows and slice down the glass, my heart slammed into my gut when I realize what it was.
Blood.
Perhaps my ignorance of Biblical studies explains why I remained calm. Of course, back then, I still believed in a scientific explanation, that the pulpy red downpour was a freak of nature, like the reports of it raining frogs I'd read as a kid in Ripley's Believe It Or Not. But as the windows ran with a wine-dark crimson, and the secretaries shrieked about angels and the "the seventh seal," I realized what was happening was preternatural, if not divine.
Like most people, I'd never really thought about Armageddon. It was a topic reserved for evangelists or hardcore Jesus freaks. In a sophomore theology class at Syracuse I read The Book of Revelations, but I didn't understand it, not without Cliff Notes. It was an outlandish concept, but given the state of the world in the twenty-first century, it didn't surprise me.
See, my fourteen years in the newsroom had bred a callousness, a detachment from the severity of the events we covered. War, assassinations, plane crashes, mass murders, ethnic cleansing, AIDS, babies left to rot in the trash, the music of Mariah Carey, I viewed it all stoically, objectively, no matter how sickening or depraved, it didn't affect me. It was all par for the course. Armageddon was no different.
And besides, I thought, strangely resigned, with all the misery in the world, why shouldn't it end? It would sure spare a lot of people from suffering. I was sad, because I wanted to live—I had an eighteen hundred square foot loft, a new bitch-magnet Jag—but deep down Armageddon didn't seem that impossible. In the news business you get jaded. After awhile nothing shocks you.
Of course, my coworkers took it harder, but once I made them realize their obligation to the city of New York—I decided to play that hand, that old "civic responsibility" angle—they quit panicking and got to work.
"People!" I screamed, as high heels and wingtips stampeded for the elevator, "Settle down! Now!"
A few faces turned, but most kept clamoring. I was jostled and spun, but thinking quickly, I grabbed a metal garbage can and hopped onto the reception desk. I gonged the can with an umbrella until I had their attention.
"Hey, remain calm! Quiet down!"
Davis, a newswriter, craned back. "Remain calm?" he yelled, his thin face pretzeled with fear, "It's raining blood for Christ sakes!"
With a shout the fracas started again, and the elevator beeped and banged as the scrum of bodies swamped its interior.
"Yes!" I screamed, "You're right. It's raining blood. But people . . . do we have to act like idiotic children? Like fools? Remember. We have an obligation—we're a news department."
The crowd quieted some.
"This rain, blood, whatever it is, it's just news. Big news—bigger than Okalahoma City, Bosnia, even O.J! Think of the stories, the dramas—Davis, why think of the copy you could write!"
Davis' face relaxed, and he fingered his chin, considering my words.
Richie nodded. A few other stirred, buoyed by the emotion in my voice. I decided to go for the jugular:
"The people have a right to know. We owe it to them. All of New York's counting on you, and you're leaving? To got out there?" I pointed to the windows. "Ha. Well, go ahead. But I'm staying right here, and if I have to go on myself and read the goddamn news, then by God, I'll do it."
Blood drummed against the panes; thick oily curtains of red streamed down the glass and bubbled over the sill. It felt like we were in a submarine, forty fathoms deep in a corpuscle sea. They looked at me. I looked at them. No one knew what to say.
"Now if you'll excuse me, I have copy to write," I said, leaping off the desk.
I strolled to the kitchen and brewed a pot of Maxwell House—a two bagger. I'd need all the alertness I could get.
Well, my impromptu speech got them pretty riled, and the newsroom sprang into action: phones ringing, keyboards clacking, modems chirping static—the manic flux of a department operating at peak capacity. Obviously, I'd touched a communal nerve, made them see that in a time as grave as this, there was only one thing to do—our jobs.
Richie and the field crews hit the streets, searching for stories, footage, anything to define the unbelievable situation. Reporters Frank Dabney, Suzy Ho, Yolanda Rollins, and Abe Glickman followed behind. Davis and the writers got the AP UPI and Reuters reports and jammed out copy. Graphics, meteorology, sports, every department was ablaze. Marion, my secretary, microwaved a big batch of cheese popcorn, and in a hilarious stunt that further enhanced our camaraderie, the interns from Skidmore College cranked "It's The End Of The World As WeKnow It," by R.E.M. That really loosened us up!
More reports came in off the wire, and the enormity of the situation sank in. Incredibly, the bloodstorm was only the beginning—by twelve-thirty it was joined by flaming hail, tiny Chiclet-sized comets plummeting from the blackened sky in tracers of gold before fizzling out in the red muck that stained every surface the hue of viscera. Thunder boomed; lightning slashed, and the sky churned in a mosaic of streaking glittering fire. It was a massive hallucination, a kaleidoscopic swirl, a strobing lava-like stew of orange and red and gold.
And then there were the locusts. Without warning they swarmed from the subway, in Grand Central, Penn Station, Battery Park; from the IRT and PATH trains, the Lexington lines, every one of the city's 229 stations vomited rasping wings and scissoring teeth. In a vast nimbus they poured down the avenues, their collective buzz prickling my skin with goose bumps. I watched them perch on the windows, slapping their wings, smearing bloody arcs on the kidney-colored glass.
Due to the severity of the situation, I called Silverstein and told him to pre-empt. He just laughed. "Tell that to IBM," he said. I was dismayed, but I understood. To deny IBM the time they paid for would be unethical, not to mention losing the network valuable ad dollars. And besides, none of the other networks were preempting, why should we? So I'd have to do cut-ins.
But I didn't mind. Ivy Ivers would handle things until the anchors arrived, and with Sheila in constant touch with the reporters via the cellular, I knew we'd have some killer stories.
At two-fifteen, Frank Dabney stumbled into my office. From head to toe he was crusted in blood, and a fine paprika-like dust flaked off him with every move. White lines creased his mouth and forehead where his skin had furrowed, and burnt craters singed his suit.
"I've got a rough cut of a locust piece," he said, "ramming a three-quarter inch tape into my VTR. Over shots of flying insects, I heard his VO:
With a whir they started skyward, out of the broken earth in vast, black clouds. They had come to punish mankind, to make him pay for his sins, and pay they did. All across the metropolitan area, the pesky swarms attacked, dive-bombing out of the roiling skies with a vengeance. Nothing could stop them, as this Queens man found out, as he was walking his dog.
They came from nowhere, out of the sky. They bit my dog up and then they come for me.
Why do you think they're here?
Don't know. Just want em gone.
But by all appearances, the locusts are here to stay. Frank Dabney, NewsFIve New York.
Frank popped the tape. "Like it?"
"Yeah," I said, slipping a gnawed Bic from my mouth, "lose 'roiling' thought. Too esoteric. And clip ten frames off the end shot."
But that was only the beginning.
Abe Glickman shot a piece in the Sheep's Meadow, with sound-bites from stoned Frisbee tossers who said they'd party right up to the end. "Like what can you do," said one dreadlocked kid, puffing a Hebrew National-sized joint. I told Abe to use the R.E.M. song for background. "Gotcha!" he said, sprinting off. Yolanda Rollins shit Wall Street, getting fantastic shots of panicked traders and the plummeting Dow. And Suzy Ho came through with a tear-jerker about the diligent kids at P.S. 38 on the Upper West Side, who, despite the hopeless scenario, kept right on studying.
Things were going well, although we still hadn't heard from Johnny Davenport in the NewsFive chopper. I hoped he was okay, but if not, I had a backup plan: we'd do an on-air memorial, a somber "line of duty" piece. That would sob things up.
At three o'clock, I held and editorial meeting in the small conference room with Sheila, Fred Silverstein, Davis, executive producer Ralph Busey, and our anchors, Dan Delaney and Sunny Greenfield. Our purpose was to decide what stories to do, in what order, and in what format. Usually the meetings lasted an hour, but today we decided to make it quick.
We all agreed that Franks' locust piece was a highlight, and should run up top, after the global package Davis was writing. However, the Davis piece needed video, which was a problem, since Visnews and Imagique had no way of shipping us film. Around the world serious shit was happening—a meteor smashed into the Indian Ocean, triggering psunamis; monster quakes racked Asia-and we couldn't show it. I considered dropping the piece, figuring Brokaw would cover the international stuff, but decided not to. We needed those stories, they were important. And time was running out.
Then Sunny had a brilliant idea.
Sitting at the long conference table piled with media schedules, program logs and scripts, twirling a finger in her frosty blonde hair, she squeaked, "Why don't we used footage from disaster movies?"
As none of had ever heard Sunny say anything other than what ran on the TelePrompTer, a shocked silence filled the room. Then Silverstein shot up from his chair. "Perfect!" Archives has Earthquake, The Towering Inferno, every movie ever made!"
"There's great scenes in The Ten Commandments," said Ralph.
Dan nodded stoically. "That'll work."
Sunny looked bewildered, like she hadn't expected anyone to take her seriously.
Fred was right—it was perfect. I sent Davis and an editor to Archives; the segment they['d build on the Avid would be our hard opening, and with Abe, Yolanda, and Suzy's stories, and the celebrity piece Mindy Pug was shooting at Planet Hollywood, we had a good fifteen minutes. All that remained was weather and sports.
I called Chip and Dirk in. Chip was depressed, since all the ball games had been blooded out, but he'd cut together a "Great Moments" piece with film of the Yankees, Mets, Namath, Parcell's Giants, the Knicks and Rangers, and it looked fantastic. All he had to do was introduce it and bang—three more minutes.
Dirk Malibu, however, was positively beaming. When a storm hits, weathermen get an almost sexual thrill, and from the mile-wide grin on his tanned, whittled face, Dirk was definitely aroused.
"I wrote a great intro," he said flashing his bleached teeth. (Dirk also models for Tommy Hilfiger) He stood before us, templing his manicured hands. "As for the weather," I guess you could say. . . all hell's breaking loose."
We must've laughed for a good minute. Dirk showed his scripts, and they were fabulous. I told him to have Mavis type them right into the TelePrompTer—they didn't even need revising. I sent Dan and Sunny into make-up, and Sheila and I timed the copy and ran down the stories. The newscast was almost there, but we were ninety seconds short. Luckily, at that moment, Dr. Bernie rolled in.
Every station has a Dr. Bernie, some bookwormy freak with horned-rim glasses, tumbleweed hair, and a bow tie who offers a tidbit of advice or consumer warning; it's another great way to fill up time. Of course, Dr. Bernie isn't a real doctor, but who cares? This is TV!
"Can I read a PSA?" he said.
Dr. Bernie pulled out a scrap of yellow from his breast pocket and unfolded it. Through the underside of the paper I could see the inky swirls of his handwriting. He cleared his throat.
The end of the world is a difficult time for all of us, but there are ways to deal with it. The first thing to do—don't panic. Remember: you can't think if you're screaming. The second thing to do is protect yourself. Stay indoors under a shelter of some kind, a strong table or ironing board. For those of you who live in apartment buildings, leave immediately for a nearby rescue center. If you're going outside, dress in layers, and wear a cap. As for the locusts, spray yourself with insect repellent, Deep Woods Off! or one of the Cutter brands. We're expecting some pretty severe weather, so please, keep these precautions in mind. They could save, I mean, prolong your life.
I checked my stopwatch: sixty seconds. With anchor chatter, we had our ninety.
Picking nervously at a hangnail, I hunched over the Grass Valley 2400 switcher in the control room, watching the red digits on the program clock slide to six o'clock. Technical director Tony Fazzio sat beside me. Rows of glowing buttons bathed our faces in shades of orange, yellow and green and the test and tone hummed an eerie flatness. No one said a word. I gazed into studio 6A, and saw Dan and Sunny propped behind the gray carpeted anchor desk, receiving last-second whisks of make-up.
At 5: 58 Dan appeared ten-fold on the bank of monitors. He adjusted the lavaliere mike clipped to his tie and stared blankly ahead.
I held my breath, hands slippery with sweat. The seconds ticked by. Then—the clock flashed zeroes; Tony punched a button, and with a zapping swoosh, our opening montage tumbled onto the screen. A soft, victorious "Yes!" escaped my lips as Dan read off the prompter:
The end of the world—fire, destruction, mayhem in the streets—Judgement Day is here and we're live with the latest.
Good evening I'm Dad Delaney. The skies are black and the seas are red as Armageddon—the mythical battle between good and evil—rages in New York and all over the globe.
It started before noon, when as the Book of revelations foretold, the sun blackened in a terrifying eclipse. Next came thunder and lightning, followed by torrents of bloody rain and flaming hail that left New Yorkers scrambling for shelter.
I watched footage of fleeing pedestrians, then the global piece Davis cut from the Irwin Allen films ran—cleverly, he'd digitized the film, giving it the flat, muted look of video—with Dan's VO:
In Asia and the Middle east, a series of mammoth earthquakes measuring 12.3 on the Richter scale has left those areas devastated. Baghdad, Hong Kong, Tokyo and other cities are in ruin, reduced to smoking rubble by the trembling earth. Billions are dead, and more are missing.
And to make matters worse, tidal waves triggered by a meteor plunging into the Indian Ocean are battering coastal areas. Astronomers say the meteor was a wayward asteroid, and may have been a quarter-mile in circumference. Residents are being evacuated, but as more quakes are due to hit, it doesn't look good. Sunny, it's a scenario right out of Hollywood disaster movie.
It sure is Dan. Here in New York, while the blood and hail has stopped for now, that doesn't mean we can relax. Because as Frank Dabney reports, woes of a different sort loom on the horizon.
Frank's locust piece ran, and I sighed with relief. Soon we'd hit the commercial break; after that, it was all downhill. But if I've learned anything from fourteen years in this business, it's that nothing ever goes as planned.
Five minutes into the broadcast, I saw the fresnels in the studio swaying on the lighting grid. A low, subway-like rumble sounded, and the floor quivered under my feet. I heard a screech, like nails on a chalkboard only a million times louder, and with a sickening lurch the control room slewed sideways. Everything was a blur, a dizzying jumble of color and noise—crashes, explosions, horrid metallic splintering, screams, complete chaos. All I remember is diving under the console, where I was battered and slapped like a pinball, my head pummeling the floor. Then it was over.
I scaled a mountain of debris—torn cables, flayed wiring, broken-backed chairs—and peered into the studio. Lights dangled in eviscerated hulks, flanges of warped meal hanging from shattered bulbs. Cameras lay on their sides; glass-shards and plaster obscured the floor. Incredibly, Dan and Sunny sat behind the anchor desk, unfazed.
It looks like we can add earthquakes to the list of disasters, Dan.
That's right, Sunny. I guess you could say we're . . . all shook up.
Now that's what I call commitment. But that's the kind of crew I had—professionals, every one of them.
Once the technicians righted the cameras, we sailed on without a second of dead air. Dan and Sunny's fortitude infected everybody—you could feel it. Never have I seen a department act with such purpose. Everything—the celebrity stuff, Dr. Bernie—went perfect.
The highlight of the show was Dirk's weather:
As you can see on the satellite picture, there's a massive low pressure system sweeping across the country, and right here, this giant mass of clouds, that's where the blood's coming from. Right now it's a record 107 degrees in Times Square, with a low of 60 earlier in the day. One hundred percent relative humidity, and the barometer bottoms out at an incredible 21.02. The forecast for tonight calls for hurricane level winds and more flaming hail, so you may want to get the patio furniture inside. Tomorrow expect a high of 130 as temperatures skyrocket from comets and meteors battering the earth's surface, and more earthquakes on the way, too. No, the way the weekends' shaping up, you might want to stay inside and run the air conditioner.
Dirk never looked better. After Chip's sports, Abe's Frisbee piece ran, and as R.E.M. rocked over the credits, everyone whooped and shrieked and high-fived.
The newsroom is quiet, just the endless lashing of blood on the shattered windows and the chugging hum of the air conditioners. The place is trashed: felled cubicle walls, shreds of aluminum hanging from caved-in ceilings, smashed computers, and everything is swathed in dull, staticy gray from the television monitors flickering like ghosts through the room.
The staffers have left; it's just Sheila and me, Dan, Sunny, Chip, Dirk, and some technical people. I guess that last tremor scared them off.
As I sit at my desk, reflecting, I'm filled with pride. Despite tremendous odds we accomplished our goal. Not even Armageddon stopped us! There were tough moments, but in the end we came through. I watched tapes of CBS and ABC's broadcasts, and ours was vastly superior.
It's ten-thirty now, and we're almost ready for the eleven o'clock show. We've got killer stuff—Richie should be back form the South Street Seaport any minute, with footage of some fucked-up seven-beast thing with crowns and horns that emerged out of the East River. We should get a 10.0 share with that. Easy.
I feel content, like my life's been worthwhile. I did a lot in thirty-eight years. Thank god for TV. I tell you, it's the most powerful force in the world. It was an honor to be part of it.
My only regret is what happened to Johnny Davenport. J.D. was a top-notch chopper pilot, but even he couldn't navigate the blood and hail. Poor guy.
That's it, I guess. I feel good. I did my job. We all did. At eleven-thirty, the champagne will fly. Sunny wants to have an orgy, but hey, no thanks.
I'm not into blondes.
-As published in The Portland Review